Poke around and stroll through the Bayreuth markets. Let yourself be inspired by regional and nationwide products.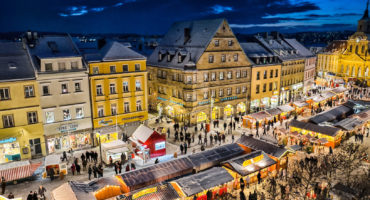 Christmas Market
Against the magni­fi­cent back­ground of historic Bayreuth, the booths of the Christmas Market offer culinary deli­ca­cies as well as hand­crafted items.
Continue Reading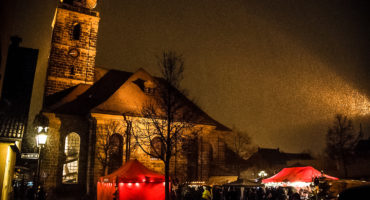 Ster­nen­markt
Expe­ri­ence the tradi­tional Ster­nen­markt at the historic district of St. Georgen. In addi­tion to regional sellers and fanta­stic gift ideas, a colorful enter­tain­ment program awaits you.
Continue Reading
Viktualien market
(Every Tuesday and Thursday 10 AM to 6 PM)
Shop every week regional, fresh products: the Viktualien Market on the Bayreuth Market place, Maximillianstraße, makes this possible.
weekly market
(Wednesday and Saturday 7 AM to 12 Noon)
The weekly market, in- and outside of the Rotmain hall next to the Rotmain shopping center, offers a large assortment of fresh, regional products.
Lichtmess market
The Lichtmess market takes place traditionally around February 2nd . A wide selection of regional and national products are offered.
Whitsun market
To prepare for the Pentecost, regional and national sellers have their Whitsun market at the downtown pedestrian zone in Bayreuth.
St. Martins market
The traditional St. Martins market at the beginning of November invites for strolling and enjoying. In addition, the downtown retailers have fantastic offers and sales and invite visitor to shop on Sunday.